Daily Defence Dry Shampoo
Stock: 9
Regular price
Sale price
$42.00 CAD
Unit price
per
Sale
Sold Out - Contact us for further information
Your non-toxic, talc free, all-natural go-to solution for cleansing and freshening your horse.
Silky proteins from silkworm cocoons, lavender essential oil, chamomile flowers, neem leaves, pine bark, cherry bark, bentonite clay, witch hazel, arrowroot. All these skin-enhancing natural medicines carefully blended in a powerhouse base of baking soda, and cornstarch? OH MY!
How it works:

Our ingredients attack and kill all bacterial and fungal infections that cause most equine skin ailments
Sprinkle Daily Defense onto Desired Areas
Use a curry brush or your hands and massage into the skin and coat using a circular motion
If using as a remedy, leave on continuously, apply more as needed to maintain coverage
For difficult to reach areas such as the midline of the belly or legs, shake the powder onto your hand and apply directly to the desired areas. Be sure to massage into the coat and down to the skin
When using under saddle pads, wraps, or sports medicine boots, apply generously and leave on
To freshen boots, saddle pads, helmets, or any other equipment, apply generously and leave out in the sun or fresh air to dry
Ingredients:
A superior blend of natures finest – Sodium Bicarbonate, Corn Starch, Arrowroot Powder, Bentonite Clay, Organic Neem Seed Oil, Lavender Oil, Organic Witch Hazel Powder, Silk Peptide Powder, Organic Arnica Powder, Organic Chamomile Powder, and Organic Neem Leaf Powder.
*Sold in 8oz and 16oz Bottles*
Share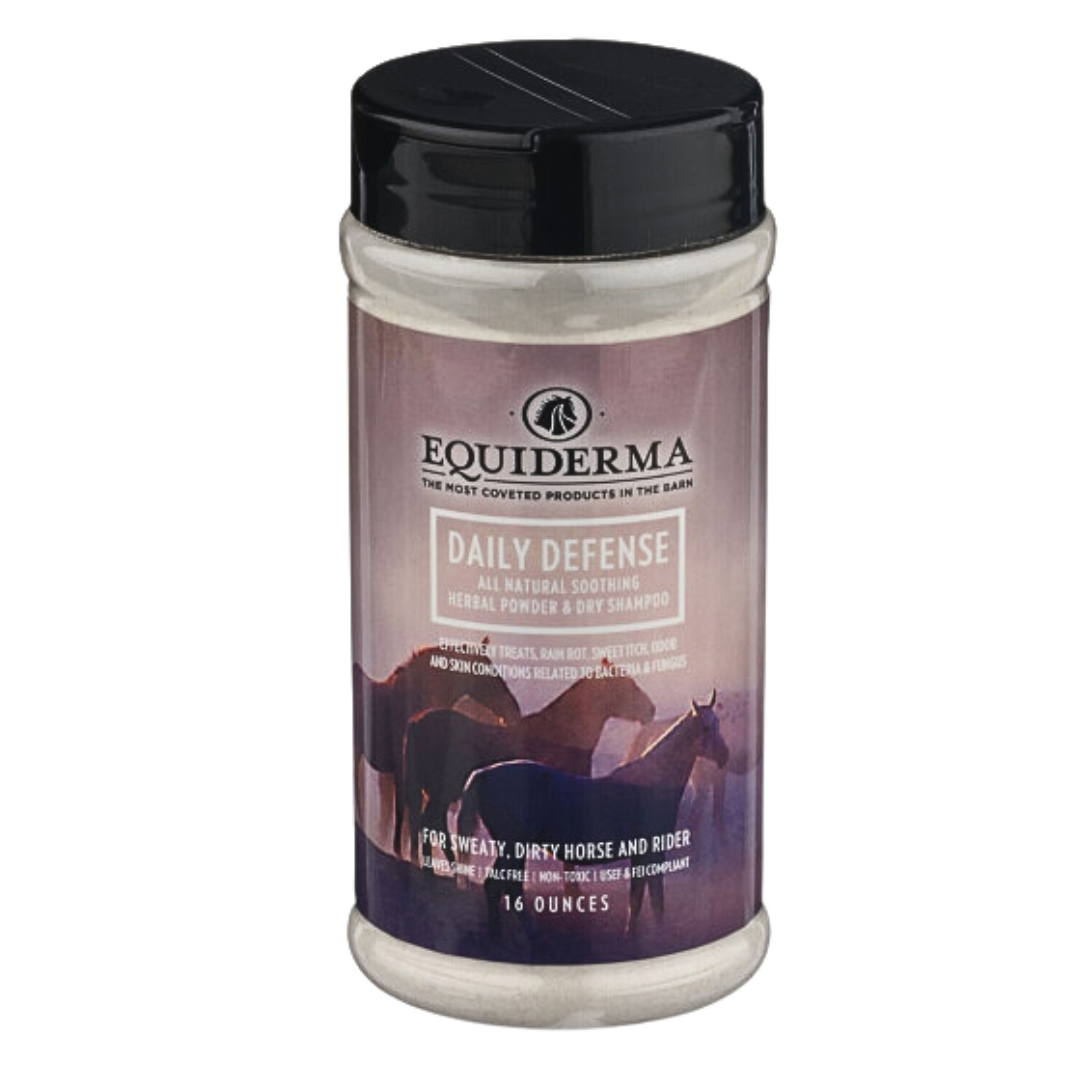 excellent product
Helped control rain rot in horse that is not able to have a bath.