Heiro for Horses - for Insulin
Stock: 4
Regular price
Sale price
$72.50 CAD
Unit price
per
Sale
Sold Out - Contact us for further information
Is this your horse?
Chronic sore feet, rotation on x-ray, Can't be on pasture, cresty neck, on Cushing's meds but still foot sore, stays large on little food, painful on hard ground, and Founder history. The answer is to use the veterinarian-developed, 100% all natural supplement using high quality, top-rated USDA certified organic herbs to help safely and naturally combat elevated Insulin.

What is in HEIRO?
There is a proprietary great tasting herbal blend exclusive to HEIRO containing fenugreek, ocean kelp, blue-green spirulina algae, cinnamon, ginger, willow, peppermint, milk thistle, alfalfa, Vitamin E concentrate, and Magnesium Oxide Mineral.
There are no fillers, no artificial colors, preservatives, melamine, pesticides or drugs. This is a great combination and concentrations of organicals to make horses more comfortable and help them get back on grass pasture. The amount of each herb, the part of the plant used to make the herb along with the unique blending process to bring the herbs into a combination with vitamin E and Magnesium.

Features:
No artificial colours or perservatives
Certified melamine, drug, lead, and pesticide free
Certified low in Starch, Sugars and Fructan

Non-GMO
Gluten free
** Free 30-day money back guarantee – so give it a try! Contact us for details.
** Disclaimer: Price may change without notice due to fluctuations in exchange rate.
** 30 and 40 Day Sizes are NOT eligible for Subscription.
*Sold in 30, 40, 90 and 180 Day Containers*
Share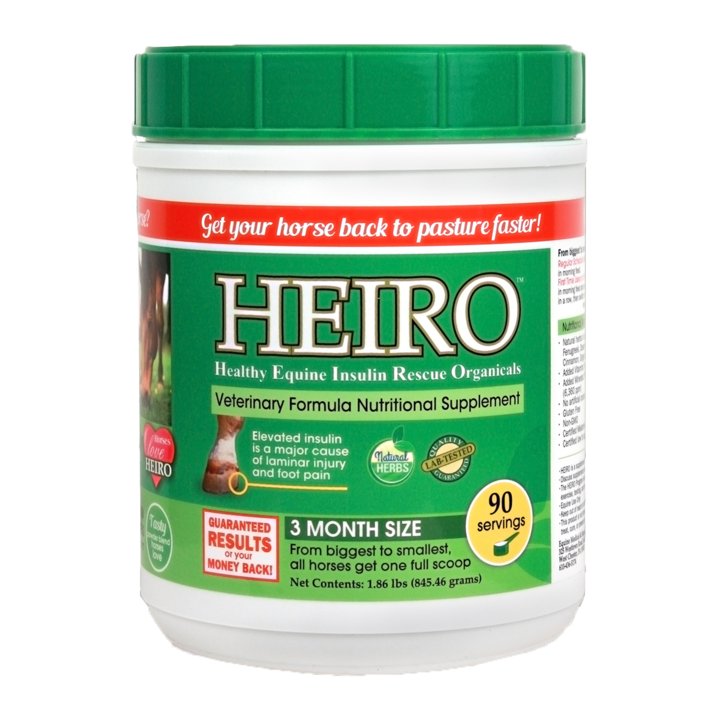 Great Company to deal with
I was referred by my sister to make my purchase and glad I did. I would like to see you carry a few other products and you may contact me if you wish to discuss.
Heiro for Horses - for Insulin
I have used Heiro for many summers as a part of my feed program for insulin resistant horses. It has helped me keep my horses on pasture for the summer, but is only one part of a management program. The one thing that bugs me about the Heiro packaging is that it is almost impossible to get the lid off the large size pail. My husband has to cut it off for me as I am not strong enough to tear the seal off. That could certainly be improved!
Works like a charm!
Our mini mare had a lamantis flare up and within three days of using Heiro it was cleared up. It arrived in two days from Horse Canada, with no issues. Absolutely will be buying again.
Heidi for metabolic issues
As it has only been a week on the product it is too soon to tell if it is truly helping my horse. He has been hesitant to eat the product and I have had to devise ways to convince him to eat it. Currently in an alfalfa mash