Neem Shampoo for Horses
Stock: -5
Regular price
Sale price
$51.00 CAD
Unit price
per
Sale
Sold Out - Contact us for further information
Equiderma Neem Shampoo works like a seven-course meal for your horse's skin by deeply nourishing it while cleaning your horse to perfection. It imparts a shine that lasts for days and also inhibits any organisms lurking from gaining a foothold.
Use our shampoo as a part of your regular grooming regimen to keep your horse's coat in peak condition. Equiderma Neem Shampoo can also be utilized to heal wounds. Our formulation is soap-free and is combined by the cleanest, plant-based, and cutting-edge products on the market today. It is designed to improve the condition of the skin without stripping natural oils essential for a shiny, glossy, and healthy coat.
Features:
Arnica - Nature's most powerful anti-inflammatory soothes painful, inflamed tissue
Chamomile and Basil - Anti-inflammatory, antifungal and antibacterial reduces skin irritants by neutralizing free radicals
Pine Bark and Cherry Bark - Anti-oxidant properties help skin to renew healthy cells quickly and also reduce inflammation
Neem - Rejuvenates skin cells, scavenges free radicals, promotes healing and stimulates Collagen
Sulfate-Free - Made with 100% naturally derived bio-renewable, bio-degradable surfactants
Rinses Clean in One Pass. No more continuous rinsing and scraping to ensure your horse is clean
Ingredients: Botanical Extract Blend of Organic Neem Leaf, Chamomile, Arnica, Pine Bark, Basil, Cherry Bark, Wild Crafted Neem Oil
Testimonial:

These products are the best we have ever used! Not only are most organic and natural, but the shine they produce on the horses coats and effectiveness of all the products is second to none! We had two horses with long standing skin issues- one with hives and one with hair loss on the mane and tail. After trying everything, and I mean EVERYTHING, Equiderma worked immediately!
Shannon & Steffen Peters
U.S. Olympic Dressage Champion & Trainers
*Sold in 946mL Bottle*
Share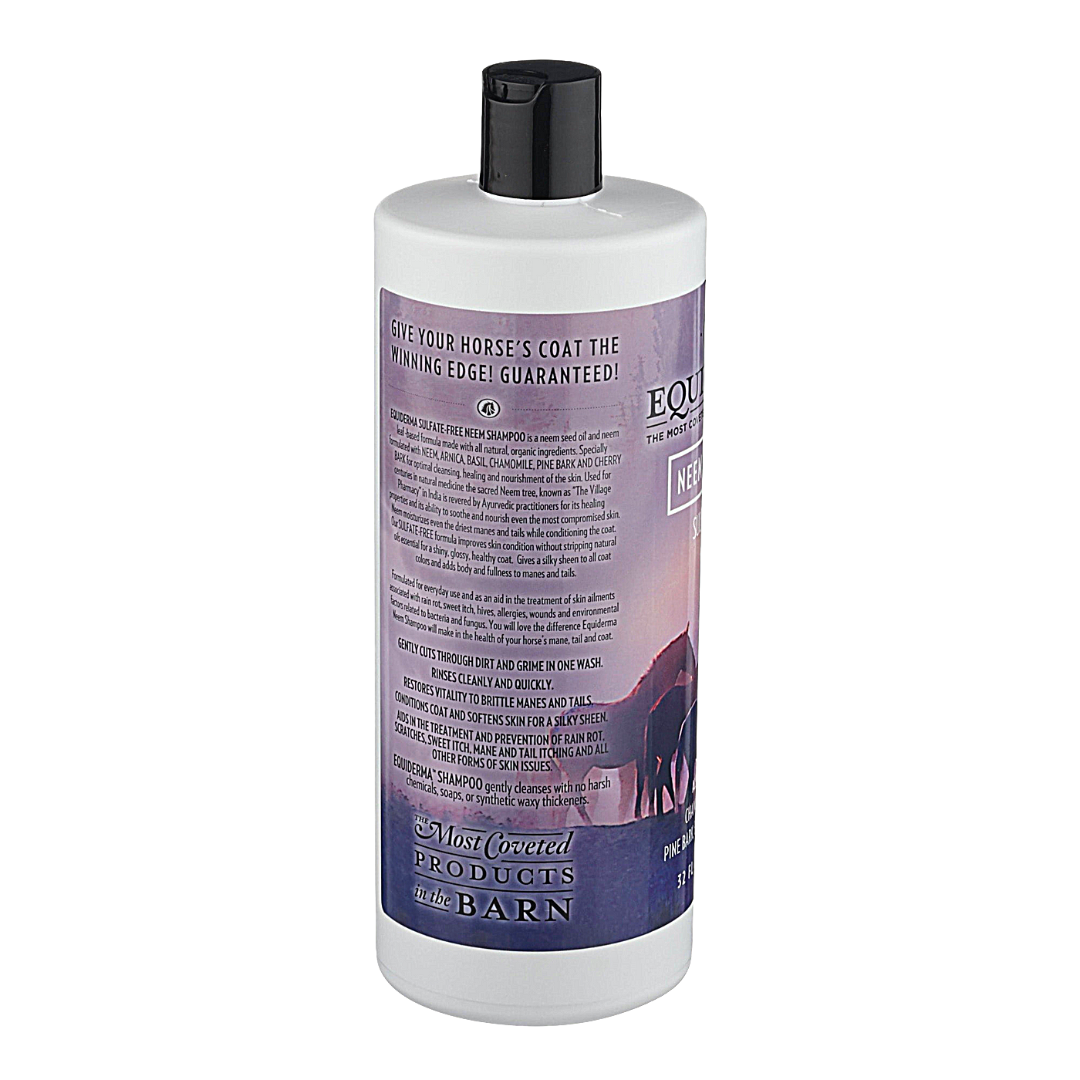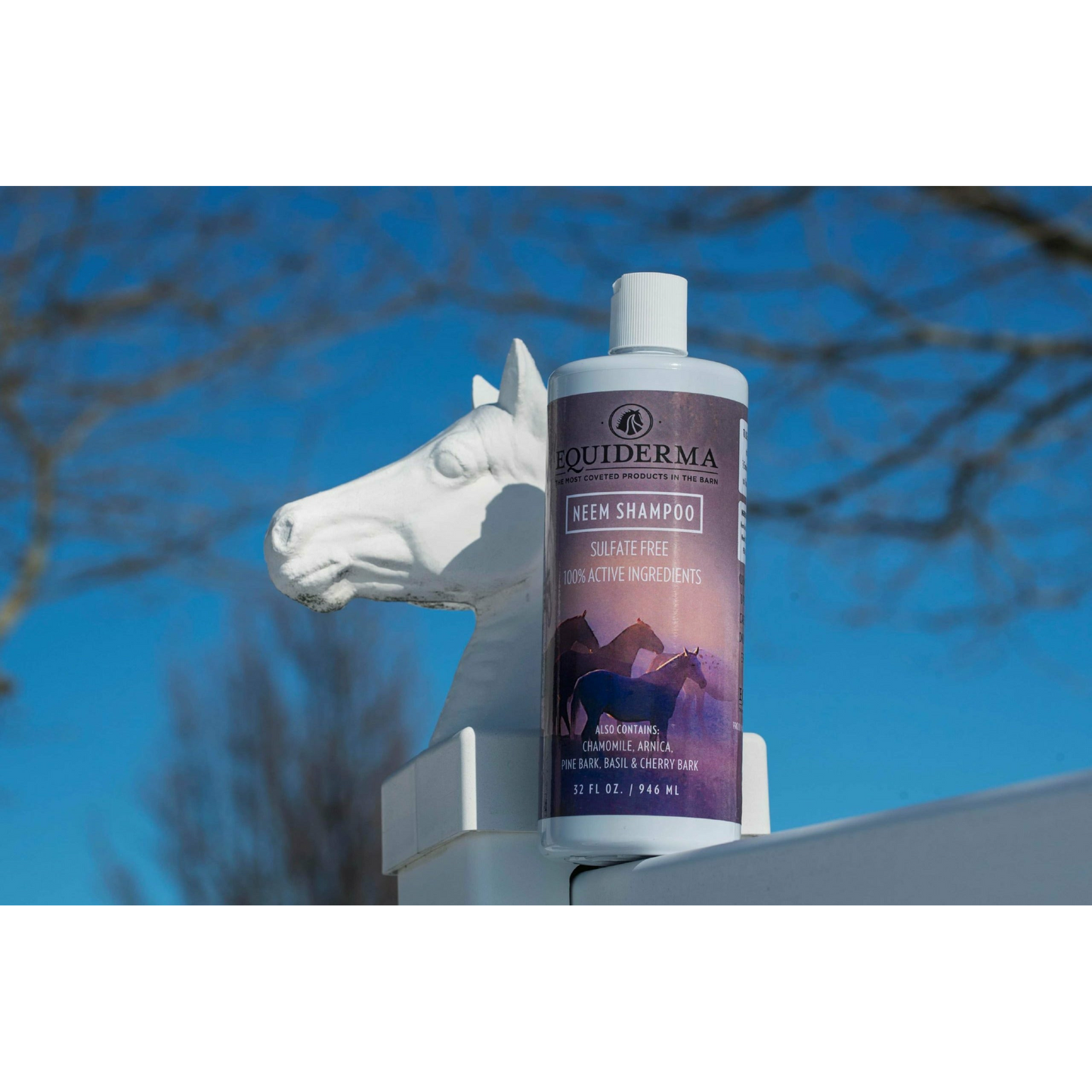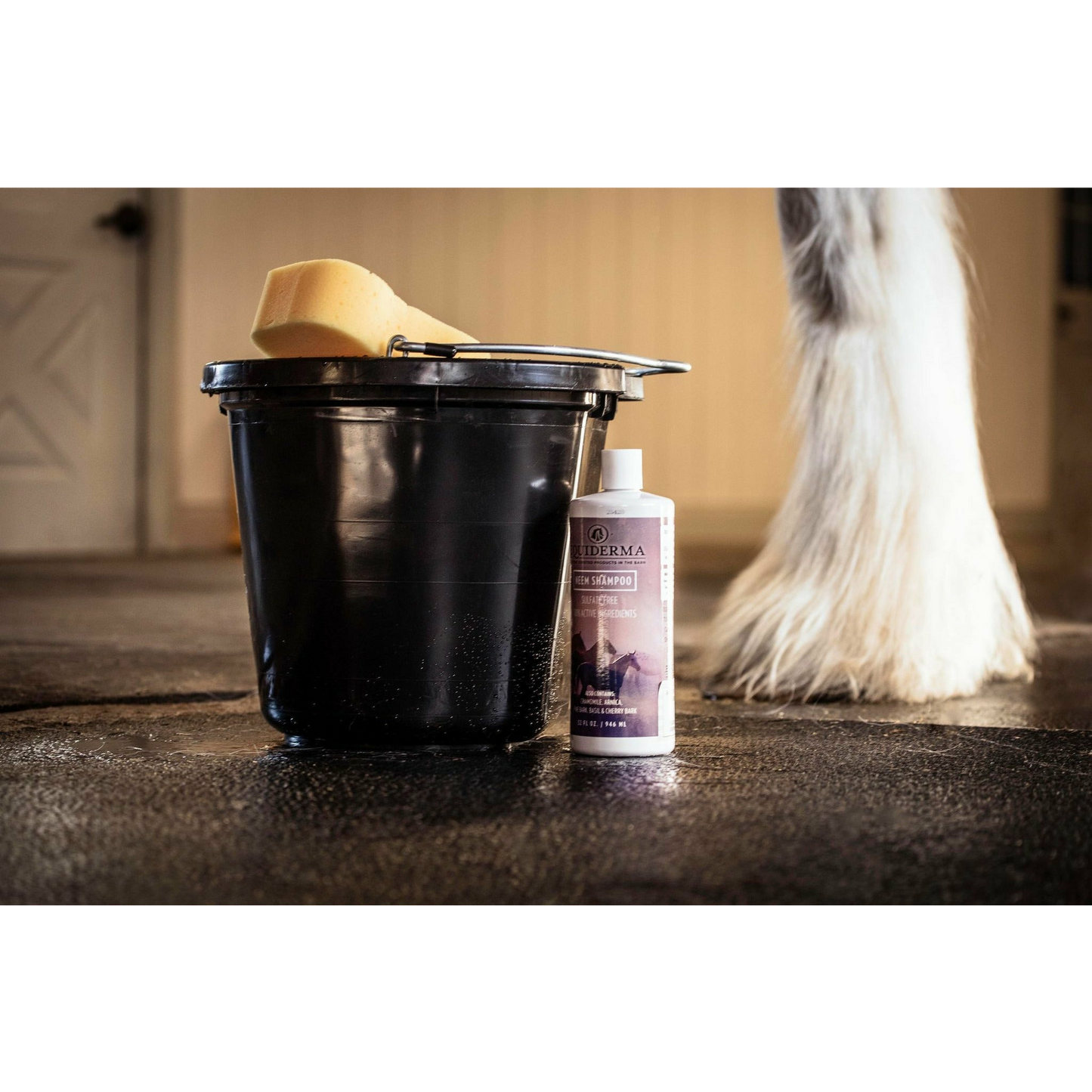 Neem Shampoo for Horses is my new go-to shampoo!
This shampoo is quite amazing! It thoroughly washes and rinses out with no residue, and treats and soothes all the different summer buggy and heat relate skin issues, while leaving the horse's coat, mane and tail clean and shiny for competition/clinics. My horse had the unfortunate experience this summer of being stung multiple times by wasps in the pasture. He was treated with antihistamines, but I also saw a noticeable decrease in the size of the bites and a big increase in his comfort level after washing him with the Neem Shampoo. I can't say enough good things about it!
THE BEST
I use the shampoo for his legs, mild mud fever and for his whole body, he is the shiniest horse in the barn and his coat feels soft and well nourished, never buying anything else
Very good
Easy to use and rinse, I really like the smell. I think it helps for the skin problem of my horse