HiTie System
Stock: 1
Regular price
$550.00 CAD
Regular price
Sale price
$550.00 CAD
Unit price
per
Sale
Sold Out - Contact us for further information
The HiTie was developed to provide a comfortable and safe alternative to trailer tying and portable corrals. The HiTie gives horses free movement and access to an area equivalent of a 13 foot diameter round pen. This safe, controlled movement gives horses the ability to graze, eat, drink, roll and lie down while tied.
Heavy duty stainless steel and high strength fiberglass construction safely secures your horse and stands up to the elements. Conveniently stows away flush against your trailer when not in use, so there's never a need to remove it.
How It Works:
The horse is four feet from the trailer and has approximately 135 square feet of usable space
The flexible fiberglass rod moves with the horse and allows additional movement when stressed
The adjustable Bungee Tether (sold separately) allows the horse to be tied 24 inches above the ground while providing access to food and water.
The Bungee Tether can be stretched from 5 feet to 9 feet. This important feature of the HiTie System keeps the tether out of the horse's way when rolling, eating or resting
The HiTie System is designed to eliminate rattles or noises caused by a moving horse. This is a very important feature for people using the HiTie System on a trailer with living quarters. The constant metal on metal rattling action of other units allows for little sleep
The HiTie stores flat against your horse trailer while traveling. There is no need to remove the HiTie arm....ever. It's as simple as removing the locking pin, rotating the arm and then replacing the pin. The new mounting bracket allows the HiTie arm to store left, right, up or down
Hitie Trailer Tie System Video
HiTie Installation Video

Important - Accessories & Bungee sold separately.
HiTie System Package includes: HiTie arm, mounting hardware with instructions, and one D-Ring Pin and Safety Clip.
*Sold Individually*
 
Share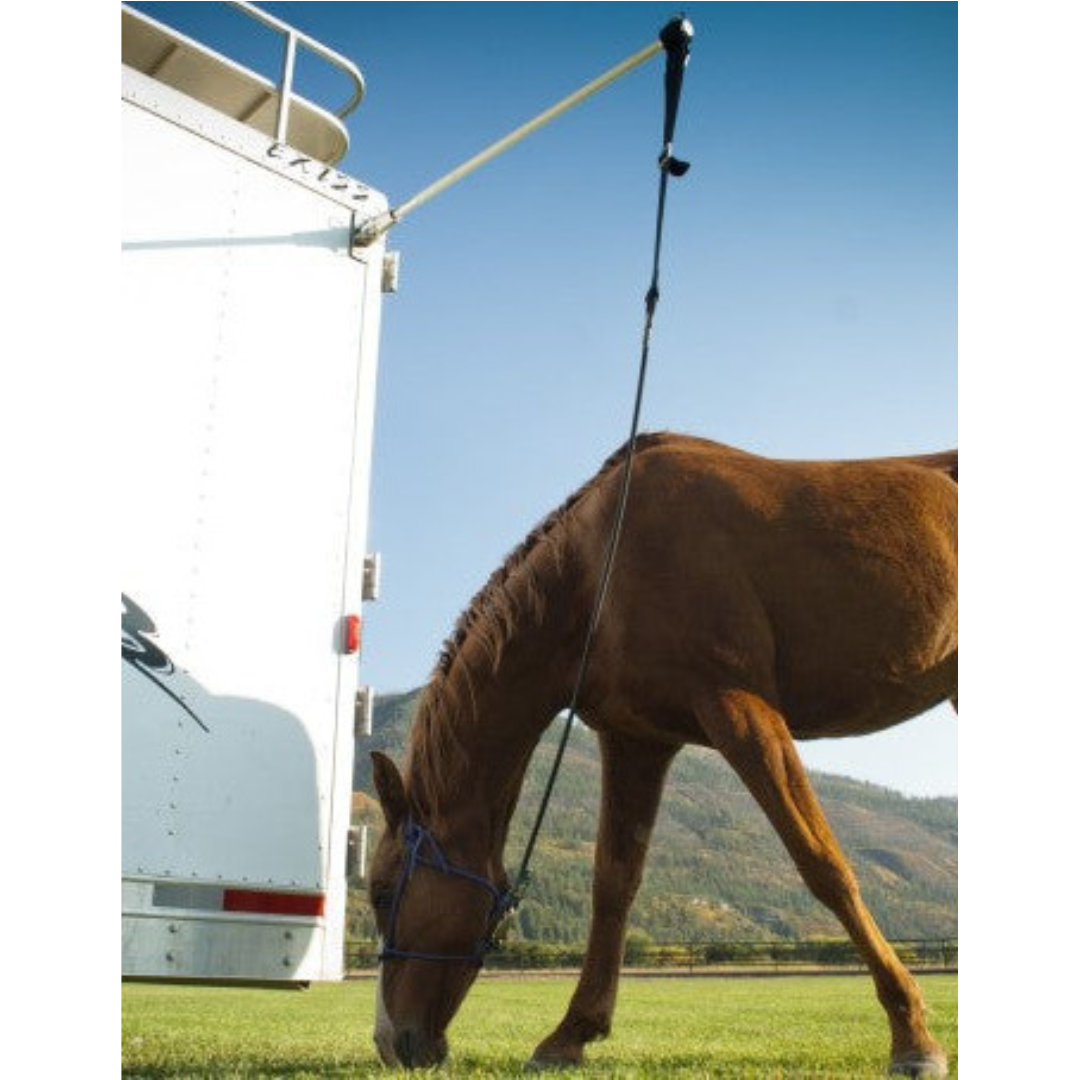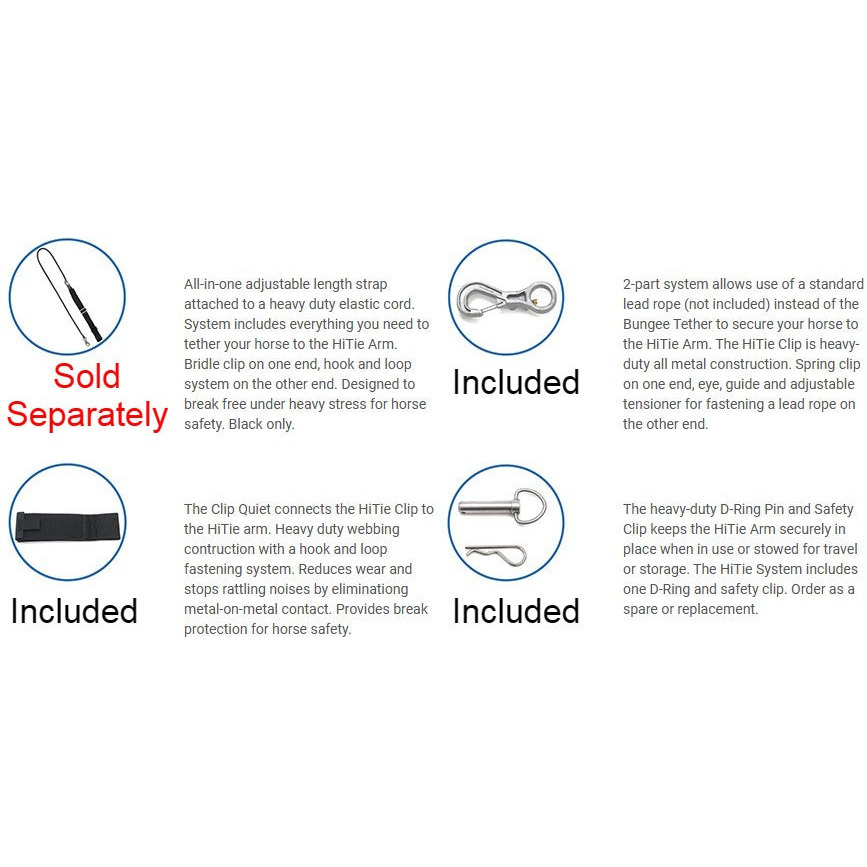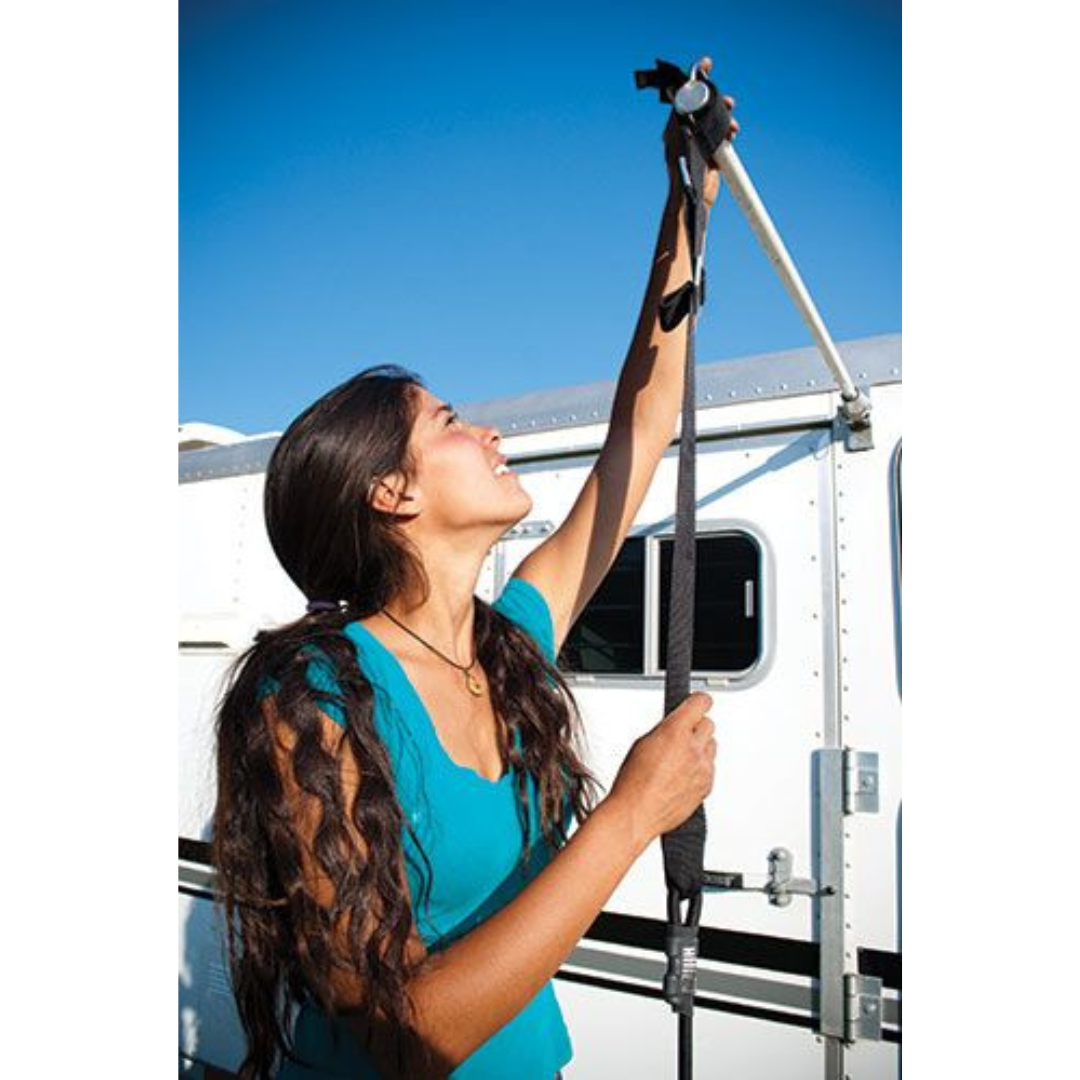 HiTie
This product is everything I hoped for. Extremely well made and so simple to install. My horse loves the freedom of movement. Service and delivery were amazing Thank you
High quality product
Just received this took it out of the box and was impressed with the quantity. Haven't set it up on trailer yet.
Great customer service
Very competitive price. Extra care in packaging for shipping.
I think the HiTie system is amazing I got and so easy to use..love it!