Wound Ointment
Stock: 8
Regular price
Sale price
$50.00 CAD
Unit price
per
Sale
Sold Out - Contact us for further information
Our Calendula & Neem Wound Ointment visibly amplifies wound healing, stops proud flesh from developing, minimizes scarring, reduces pain, and keeps flies out of wounds. Our proven healing ointment is specially formulated with calendula flower petals, one of the most beneficial wound healing agents in the plant kingdom. Known as the "flower of the sun" for centuries, it's one of ancient Ayurvedic medicine's most revered and sacred plants.
Why Equiderma Wound Ointment Treatment?
Calendula increases the flow of blood to the wound site, thereby providing the oxygen and nutrients essential to tissue regeneration. Additionally, with its high amount of flavonoids, calendula can help reduce inflammation and swelling, speeding up the stages of healing. These flavonoids also fight off bacteria, viruses and other harmful foreign invaders, protecting against wound infection
Wash wound thoroughly with chlorhexidine scrub, being sure to get it into all nooks and crannies where infection may occur
Gently remove all loose scabs and pat dry
Apply directly to wound, being sure to get it into all nooks and crannies to prevent infection
Apply 1 – 3 times daily as necessary
Ingredients: Sunflower Oil, Olive Oil, Jojoba Oil, Beeswax, Vitamin E, Neem Oil, Stearic Acid, Shea Butter, Calendula Extract, Lavender Essential Oil, Lanolin
Testimonial

I will never use another ointment again! Equiderma Wound Ointment gave me my horse back and kept me from losing her to possible life-long lameness. I was SO excited to see the progress and that her skin flap was COMPLETELY reattached. I will never use another ointment again. My friends are all adding it to their first aid kits and loving it too!
Chantel Williams, North Dakota
*Sold in 473mL Container*
Share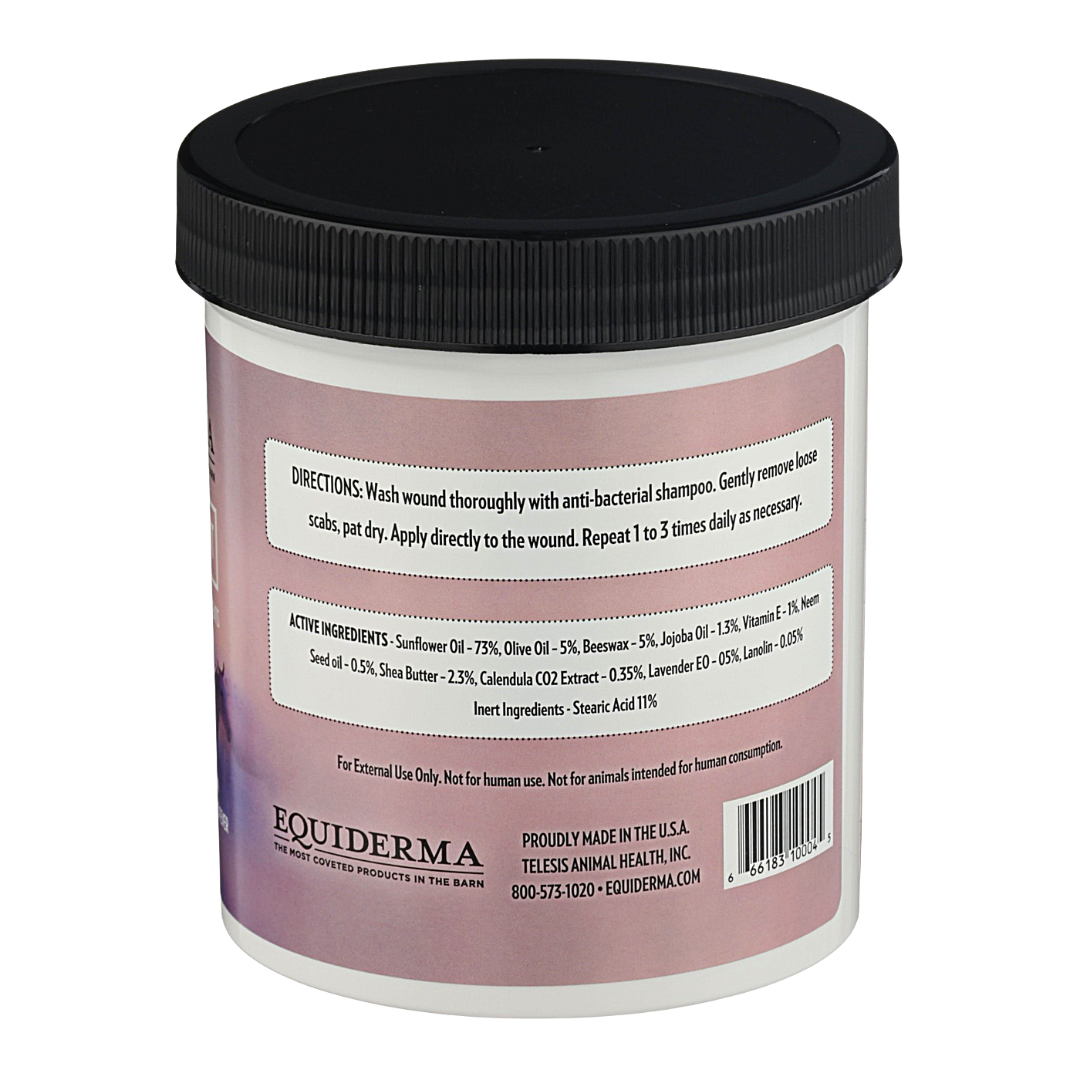 Equiderma wound ointment
My dog had a tick bite on her snout and although I kept it clean and applied polysporin to it frequently her due claw kept scratching it open! A friend recommended the equiderma wound ointment and within days it healed up! It also provides an anti itch relief so she stopped scratching it while allowing it to heal! I speak raves about this product and even tried it in my own cut and it worked amazingly! Thank you!
Equiderma keeps its promise
Miraculous! Two apps on scratches far outdid 5 days using a gel product. Equiderma knocks down bacteria, fungus. It heals quickly.