Heave Ho - For Improving Breathing
Stock: 1
Regular price
$102.00 CAD
Regular price
Sale price
$102.00 CAD
Unit price
per
Sale
Sold Out - Contact us for further information
For chronically allergic airway/COPD/Asthma horses needing help breathing.  The ingredients in Heave Ho supplement are natural herbs, high dose vitamin E and balanced minerals.  These herbs help in fortifying your horse's immune system using phytonutrients, immune modulators, adaptogens to help deal with the stress of breathing issues and anti-inflammatories. 

Heave Ho comes in two flavors – Molasses and Sugar-Free Apple for Insulin Resistant/Cushings horses.
One Scoop in the morning and evening for the first 7 days, then one scoop in the morning after that.  Most horses respond rapidly in 10-14 days with improved respiratory rates, less cough, and calmer attitudes from being able to breath better. 
A handy and convenient concentrate is shipped to you for easy storage. 
(Please Note:  Due to Lemon Balm and Green Tea – low levels of caffeine – you will need to withdraw Heave Ho 3 days prior to competition.  DO NOT compete at tested events when on Heave Ho.) 
*Proper diet and exercise is essential for horse health. This product is a supplement to help maintain horse health. This product is not intended to diagnose, treat, cure, or prevent disease.
** Free 30-day money back guarantee – so give it a try! Contact us for details.
** Disclaimer: Price may change without notice due to fluctuations in exchange rate.
** 30 Day Sizes are NOT eligible for Subscription.
*Sold in 30 and 90 Day Containers*
Share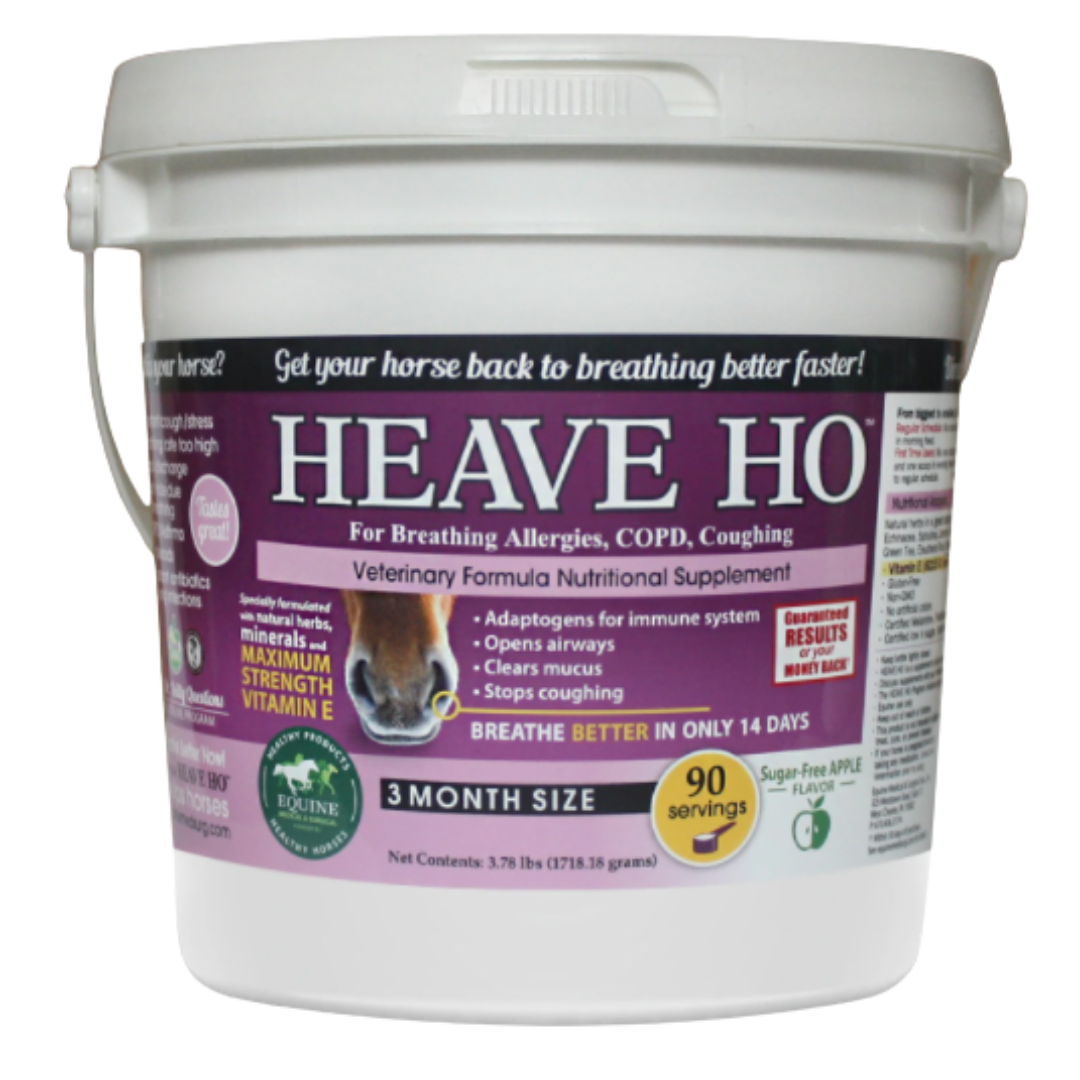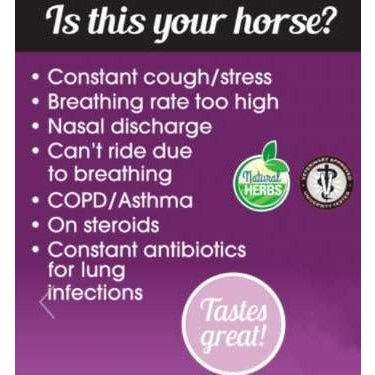 Heave Ho
I'm pleased with the high vitamin E content equal to Health E that I'd been using before switching over. At this time however, I can't evaluate the respiratory properties because, along with supplementing Heave Ho all summer, I've had to administer Clenbuteral prescribed by the vet.
Really helps
We use this in combination with veterinary medicine to keep our horse with heaves healthy.
Improved breathing
My 19 year old Paso Fino's breathing and coughing has improved significantly since he's been on Heave Ho.
Give it a try…
I have an elderly pony with heaves and last summer I thought we were going to have to let her go. Had her on ventipulmin and dex on really bad days and she was still really struggling. Came across Heave Ho and decided what did I have to lose?
It's really quite amazing. You have to give it a few weeks to get into their system but so far this year I haven't had to use anything else and she's really quite comfortable. Well worth the money!!
HEAVE-HO
Amazed that in two weeks notice a difference my mare breathing when riding. Not blowing her nose so much Also in morning a lot of pus discharge coming out. It's working!